Polar, tropical and subtropical expeditions: from Antarctica to Papua New Guinea, PONANT takes you up close and personal
with unspoilt nature and ancient cultures, far from the beaten track taken by cruises.
With almost 20 years of experience in extreme regions, PONANT is a true Polar Specialist.
Discover our expedition cruises
5 Star Expeditions
Choosing a PONANT "Expedition" cruise means choosing a state of mind: a blend of luxury, exploration and great comfort, adventureand refinement... even in the heart of the most remote regions. PONANT Expedition Cruises not only give you the chance to travel on board a luxury ship, but also to enjoy top-quality services and go on a voyage of discovery to far-flung corners of the earth, accompanied by experts on the regions visited.
See more
Destinations
Make your dream come true in Antarctica, go in search of Inuits, dive into the crystal-clear waters of the Seychelles, observe the diverse fauna and explore the dense jungle of Central America… The size of our boats makes it possible to get to hard-to-reach areas, giving you the chance to discover hidden spots.
Discover our destinations all around the world
The Expedition Teams
Made up of captivating and enthusiastic expedition leaders and naturalist guides, the PONANT expedition teams will unlock the doors to pristine natural spots. During the outings on Zodiac® boats and on-board talks, the team will give you the key to discover flora and fauna, understand the traditions and ways of life of locals and get up close and personal with these remote regions.
Discover our team
5 Star Expeditions
From the coniferous forests of the North to the glaciers of Antarctica, from the banks of the Amazon River to the idyllic beaches of New Caledonia, from the ancient traditions of the Inuits to the millennium-old cultures of Vanuatu, discover remote corners of the earth and ways of life on board a modern, luxurious ship.
Luxury amenities…
An expedition with PONANT guarantees the best conditions of day to day comfort for you in some of the most remote places on the planet. The comfort of your ship and your cabin, personalised and attentive service, refined gastronomy... the unique atmosphere which we go to great lengths to preserve in order to stay true to our philosophy, creating that privileged feeling of being aboard one's own private yacht. In the heart of the ice or the distant archipelagos of Oceania, our luxury amenities will make your expedition voyage an unforgettable experience.
Our expedition cruises
... in the heart of extreme lands
Whether in the Polar Regions or along the Amazon River, the size of our ships and their shallow draught mean you can arrive as close as possible to these hard-to-access areas. This proximity o ers the privileged discovery of preserved sites. Our expedition teams are always on the lookout for the unexpected and the surprises inherent to these itineraries, and our flexibility enables us to adapt to these. A genuine philosophy of exploration travel.
Zodiac® shore visits and outings
During Expedition voyages, our fleet of Zodiac® make landing ashore in remote, seldom visited destinations safe and enjoyable, and enable guests to get as close as possible to ice, coral reefs, waterfalls and fauna. Our Zodiac® are designed to accommodate small groups of 10 passengers. They are easy to step on to from the marina platform at the rear of your ship. Our inclusive Zodiac® and shore excursions are unforgettable experiences, whether you are landing on a deserted beach in the Maluku islands of Indonesia, interacting with remote tribes of Papua New Guinea, or discovering the splendour of Antarctic glaciers.
Our expedition cruises
Experts
Specialists of extreme regions, these passionate and fascinating professionals will bring cultural, environmental and historical dimensions to all your outings and will be sure to keep you informed about nearby flora and fauna, local cultures and natural phenomena. As recognised professionals, a er scouting missions in the field, they organise safe outings and shore visits, taking advantage of the opportunities that arise during any expedition. Aboard the ship the pleasure continues, with a series of cultural, scientific or historical presentations.

To make sure you have a safe trip, all our captains and crew are trained on glacier navigation.
Discover our expedition crew
All-inclusive Expeditions
Once aboard, enjoy the adventure in total peace of mind. Everything is included: Zodiac® outings and shore visits, excursions, lectures, parkas and boot hire for polar expeditions.
During some cruises and ports of calls, optional paying excursions are offered to visit sites that can be reached only with a local infrastructure.
Our expedition cruises
Destinations
Visit Papua New Guinea, explore the Kimberley, discover forgotten islands in the Indian Ocean, immerse yourself in glaciers in Antarctica, or go on an adventure in Spitsbergen, to name but a few options. Whether you're attracted to the tropics or the polar expanses, thanks to our expertise in luxury expedition cruises, you will be in for an unparalleled change of scenery in some of the world's most isolated regions.

Polar Expeditions voyages
The leader in expeditions to polar regions and an expert for over 20 years in these destinations, PONANT lets you live your dream for adventure, with the professional focus and responsible approach that characterises us.

In the Antarctic, set o to discover the icy vastness, and the fauna of the White Continent: humpback whales, seals, penguins... In the Arctic regions, fjords, glaciers, icebergs of changing colours and varied fauna await you: polar bears, Arctic foxes, walruses, orcas, whales... without forgetting the special moments of interaction with Inuit people.
Our polar cruises

Tropical Expeditions voyages
A tropical Expedition voyage is more a matter of encounters. Sailing to remote and seldom visited destinations allows you to discover the ancient customs of many tribes and ethnic groups that continue their rituals on the land of their forefathers.

Whether they are Papuan, Polynesian or Māori people, you will gain an understanding of their tradition and cultures. During visits to their villages, take time to interact with these warm and friendly people, ensuring rewarding encounters and priceless memories. Not forgetting disembarking on idyllic white sand beaches with crystal clear waters and coral gardens far from the hustle and bustle of the modern world.
Our tropical cruises
Expedition team
Nicolas Dubreuil and Mick Fogg are internationally renowned for their precise and accurate knowledge of extreme environments. By conducting preliminary exploratory trips and preparing carefully for each itinerary, providing expert supervision, and leading discussionsand informal chats with guests during a cruise, our Expedition Leaders forge tiesand turn PONANT guests into true ambassadors of the shores visited.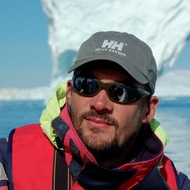 Nicolas DUBREUIL
Polar & Tropical Expedition Expert
Since his first expedition at the age of 18, Nicolas has been spending more than 8 months of each year near the poles. From Alaska to South Georgia, via Nunavut, Spitsbergen, Siberia, Iceland, the Antarctic Peninsula and Greenland, he accompanies and guides expeditions for athletes, scientists, film crews, and the mobility impaired. Nicolas Dubreuil has been a PONANT expedition leader, guide and ethnologist for 12 years.
Specialty:

polar expedition

tropical expedition

ethnologist
Meeting with Nicolas Dubreuil, on Escales Magazine :
Discover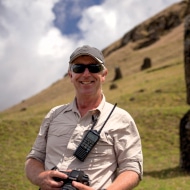 Mick FOGG
Expedition leader
In 2012, Mick was appointed first Ambassador of Orangutan Foundation International as a reward for his conservation work in Indonesia. He has led over 300 expeditions through the Asia-Pacific region, sharing his passion for these territories with guests. As an award-winning wildlife photographer and adventurer, Mick Fogg has spent the past 17 years leading expeditions to some of the world's most remote and spectacular destinations, from the Sub Antarctic Islands to South East Asia.
Specialty:

tropical expedition

photographer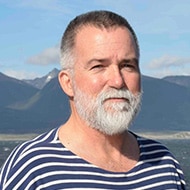 John Frick
Expedition leader
ohn's wanderlust surfaced during his undergraduate studies and has since led him to live in Alaska, to work in Nepal as a Peace Corps Volunteer and to lead hundreds of expeditions. His voyages have taken him to many far-flung areas of the globe including Africa, Alaska, South America, the Canadian Arctic, Greenland, India and the South Pacific. He looks forward to sharing with you his enthusiasm for the wonders of the natural world, in particular for the White Continent.
Specialty:

polar expedition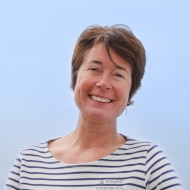 Florence KUYPER
Expedition leader
Born in the Netherlands, Florence discovered Antarctica in 2004, and she returns there every year. When she is not on board our ships, she works on sailing vessels in the Arctic and Antarctica. During the 2012/2013 season, she has been the Port Lockroy's base head chief, an emblematic British base in Antarctica. On board PONANT ships, Florence will share with you her passion for polar regions and penguins.
Specialty:

polar expedition
bird specialist
Meeting with Florence Kuyper on Escales Magazine :
Discover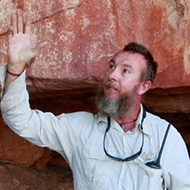 Mark « Harry » Christensen
Naturalist
Harry is a Marine Biologist by trade, with extensive experience in educating people about the biodiversity of Indo-Pacific Coral Reefs. For over 25 years he has worked within the Tourism Industry providing educational programs to visitors in Melanesia, Papua New Guinea, Indonesia, Borneo, South Pacific, South East Asia and Kimberley regions. Harry has extensive experience in the Kimberley region, where he has worked as a guide and as an Expedition Leader for several seasons.
Specialty:

tropical expedition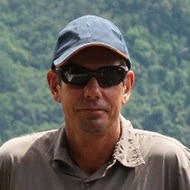 Mark Watson
Naturalist
Mark has been working as a naturalist and field guide for more than 20 years, mostly in the remote wilderness regions of Tasmania, the Kimberley and South-East Asia regions. He secured a traineeship as a ranger on the one-million-acre wilderness park known as El Questro, cruising the many spectacular gorges in search of rare birds, plants and crocodiles. He is passionate about all aspects of the old-world tropics, from the biodiversity of the coral triangle to the rainforests that are home to a plethora of endemic bird species and primates.
Specialty:

tropical expedition
bird specialist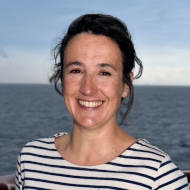 Delphine AURÈS
Expedition leader
Deeply passionate about sea and travels, Delphine has been sailing all the world's oceans for the last 20 years. Her interest for remote islands and small communities has led her to achieve various activities: biologist for the IPF (Institut Polaire Français), freelance journalist, writer and presenter of a series of TV documentaries or dog-sledding driver in Spitsbergen. On board PONANT ships, Delphine will share with you her passion for polar regions and the natural world.
Specialty:

polar expedition
Meeting with Delphine Aurès on Escales Magazine :
Discover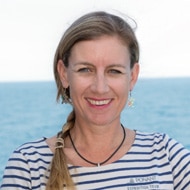 Sandrine Erwin-Rose
Expedition leader Assistant
Her first childhood memories are of leafing through her father's Jacques Cousteau books and snorkelling looking for marine creatures. Born by the shores of the Mediterranean, Sandrine Erwin-Rose has always shown curiosity for wildlife. She went on to study zoology and marine biology at James Cook University in Australia. During her studies and whilst working as a research assistant she explored some of the most diverse environments: the tropical rainforests rich in biodiversity, the arid deserts ruled by her beloved reptiles and the colourful world of coral reefs.
Specialty:

tropical expedition